Investors Not Biting on Bullish Bait
Saturday August 17, 2002
Reuters Business Report
By Pierre Belec

NEW YORK (Reuters) - "Come back in, the water's fine," say Wall Street experts. But investors have gotten wiser, and they're not biting on this bullish bait from analysts who have been collectively wrong for so long.

Investors have been scorched many times by the stock market and a whopping $7 trillion of their wealth has gone up in smoke since early 2000.

With people intensely risk averse, a new conservatism is developing among investors. Many are convinced the market is not the smart place for their money, and they're ignoring the warning that they may miss out on the next great bull market.

"Repairing of damaged portfolios and rebuilding net worth is the story of upcoming months," says Asha Bangalore, economist for Northern Trust Co. "The extravagant years belong to the past."

Indeed, investors flirting with retirement and even those in their mid-50s are preserving what's left of their shriveled 401(k) money. It will take years, with any luck, for some people to rebuild the wealth lost during the 2 1/2-year bear market.

If an investor bought $1,000 worth of Nortel Networks Corp. (NYSE:NT - News) stock a year ago, the investment would now be valued at $49. The same $1,000 of Enron Corp. stock would be worth $16, less than a case of beer.

DIZZY HEIGHTS

The reality is that the same people who boosted stocks to dizzy heights in the 1990s may now help keep them down for a long time. With money and time running out for the aging population, investors' perception has shifted from greed to contempt for stocks.

A Gallup Poll of more than 1,000 investors said they planned to put off their retirement by 4 1/2 years after the market took a sledgehammer to their retirement nest eggs. Keep in mind the sampling was conducted in January, well before the market took a nose dive.

The betting is stocks will settle in for a post-1970 bubble market. After the "Nifty-Fifty" stock boom era of the early 1970s ended, the market produced flimsy returns until the early 1980s. In the 1970s, 50 stocks ruled the market and every investor wanted to own them. Unfortunately, they fooled themselves into believing the "must-own" stocks would be rewarding forever.

After the crash, the Standard & Poor's 500 index made little headway, creeping up only 6 percent, or at an annualized rate of less than 1 percent, between December 1971 and December 1979.

"One lesson from history is that 'post-bubble' markets do not quickly revert to the returns made in the early bubble years," says Investec Asset Management. "They tend to go through prolonged and difficult adjustments where investors very rarely make money."

With people's appetite for risk at an all-time low, many have opted to stay on the sidelines. Safe has never looked so good for battered investors who have parked their stash in safe havens, such as money and bond funds.

To understand how much damage the stock meltdown has done, it's important to remember that before the stock-buying frenzy was whistled down in early 2000, half of U.S. households had a stake in the market.

Up until the first half of 2002, the market's slow-motion descent apparently was not scary enough to spark a massive retreat from U.S. stock mutual funds as $90 billion in new money poured into them, an amount that exceeded all of last year's total inflow. But this summer's bone-jarring plunge was the wake-up call.

A tornado of fund redemptions -- Wall Street lingo for selling of mutual funds -- has fueled the steepest and most severe market slump in two generations. AS OUTFLOWS GO, SO DOES THE MARKET

After turning a blind eye to 2 1/2 years of losses, investors have thrown in the towel. This "capitulation" has brought awesome market volatility because every wave of selling has set the market up for next sell-off. In July, the Dow Jones industrial average crumbled 1,000 points, then roared up 1,000 before falling 700 and finally snapping back 700 and falling back again.

There was an outflow from stock funds of $1.9 billion through the week of Aug. 7 and nearly $41 billion ran out in July, the biggest monthly drain since AMG Data Services started collecting the data in 1992.

The exodus of money will restrict the ability of fund managers to buy more stocks, which could throw a wet blanket on the market's recovery for a long time.

Feeling betrayed, investors may be reluctant to again risk their retirement money. Many have been fooled too many times by head-fake rallies since the crash began in March 2000.

The average stock mutual fund sank nearly 11 percent in the second quarter. The average fund has lost 9.8 percent so far in 2002, according to Lipper Inc., a fund tracking firm.

The ultra-cautious mind-set of investors is seeping into consumer spending, which has leveled off along with consumer confidence.

The massive loss in household wealth from the market shock is potentially a time-bomb waiting to explode on the Street. Clearly, a drop in consumer spending, which accounts for two-thirds of the nation's economic activity, would bring stocks down another notch before the end of the year.

"Consumer purchases are shifting to accommodate necessities versus want," says Bangalore.

TIDE HAS TURNED

The tide has indeed turned. But Washington and Wall Street are still mesmerized by the illusion the economic recovery is taking on and the massive stock correction was just a speed bump. Any freshman economics textbook will say they're wrong.

U.S. Treasury Secretary Paul O'Neill and Federal Reserve Chairman Alan Greenspan -- the guys who get paid to spot danger on the radar screen -- have early this month sounded optimistic about the economy. Since then, the economic numbers have shown that second-quarter growth slowed to an annual rate of just 1.1 percent. Also, the government made a downward revision in its gross domestic product data for the first quarter. Growth in the first three months of the year was chopped from 6 percent to 5.1 percent.

The bond market is more convinced than ever the Fed will need to lower interest rates to keep the economy from stalling.

The truth is Wall Street had been forecasting accurately for months the economic recovery would lose traction.

This month, cheerleaders of the bull market of the 1990s, gave investors a pep talk to get them back into stocks. Morgan Stanley's chief executive felt "very good about the equity markets" and that stocks were 20 to 25 percent undervalued, which should make "investors more confident in investing in the market."

Merrill Lynch, the world's biggest stock trading firm, is running advertisements in major newspapers in an apparent attempt to drum up business. Under the headline, "There's always a smart place for your money," it urges investors to "Take a breath. Take a step back."

Worth noting is the brokerage houses made no mention of slashing the fees to trade stocks in the same way that Detroit car makers have cut lending rates to zero to spur sales.

Charles Schwab Corp., the giant discount brokerage firm, was more realistic. It cut more jobs this week, saying investors' lack of confidence in financial markets will be long and drawn out. Too much wealth has been lost to expect a quick and painless recovery, it said.

James Dines, publisher of the Dines Letter, an investment publication, says the market is still dangerous and only short-term traders should consider the buy side at this time. Part of the reason is that bear markets can fall and to continue to slide longer than most people think. Lower market lows can beget even lower lows, he says.

"We simply don't trust this market yet," he says. "A rally is possible, but it will not be for everybody. Some investors may not sell and be caught when the tide goes out again later."

For the week, the Dow average inched up 0.4 percent to 8,778, the Nasdaq gained 4.2 percent to 1,361, and the S&P 500 climbed 2.2 percent to 929.

(Pierre Belec is a freelance writer. Any opinions in the column are solely those of Mr. Belec.)



Japan: Revised Reform Slows Economic Demise
13 August 2002

Summary

Japanese Prime Minister Junichiro Koizumi has altered a banking reform that, if implemented in
their original form, could have finally caused the collapse of the country's economy. But a new
loophole in the plan will lead to only a steady bleeding of assets from the banking sector, at a
slow enough rate that the world will no longer worry about the sector's demise.

Analysis

Japanese Prime Minister Junichiro Koizumi altered his banking "reform" plans Aug. 1 in a way that
in essence waters down their impacts and imposes negative interest rates on savings accounts. He
followed the move with a retraction of his previous pledge to limit Japan's profligate deficit
spending.

Under the original banking reform package, the government planned to end insurance guarantees on
all deposits of more than 10 million yen ($83,000) starting on April 1, 2002. The plan as
originally intended likely would have killed the Japanese economy in one fell swoop, but a recent
loophole Koizumi inserted ensures a slower, less painful death.

At stake is 300 trillion yen ($2.5 trillion) in deposits. With the Japanese economy locked into
a deflationary spiral, the end of deposit insurance would almost certainly collapse many of
Japan's already wobbly banks, particularly the smaller ones that would see many of their
customers flee with their savings to larger, supposedly more stable banks. The international
fallout also could be catastrophic, as a formal collapse of Japan's banks -- along with the
world's second-largest economy -- could cause a panic that would make the 1997 Asian financial
crisis look like small potatoes.

Brazil and the IMF

A matter of Faith


Aug 15th 2002 | SAO PAULO
The Economist



Will a big bail-out led by the IMF allow Brazil to avoid defaulting?



THE financial markets' euphoria over Brazil's $30 billion rescue by the International Monetary Fund, announced last week, was short-lived. The real soon fell back below three to the dollar, and the risk premium on Brazil's government bonds rose. President Fernando Henrique Cardoso called meetings, for August 19th, with the four main candidates to succeed him in October's election, to plead with them to commit themselves to the Fund's conditions and thus calm the markets. Though the two leftish contenders who lead the polls, Luiz Inacio Lula da Silva and Ciro Gomes, no longer talk of "renegotiating" Brazil's debts, investors worry that the country may be unable to repay them, even with the Fund's help.

The IMF package aims to boost Brazil's reserves sufficiently to ward off any further speculative attacks against the real, and to finance its big current-account deficits for this year and next. The point is to reassure lenders sufficiently for them to want to resume lending to Brazil's government and companies at reasonable rates, dissipating any talk of default. The optimists, led by Pedro Malan, the finance minister, point out that the package is bigger than the markets had hoped for, and thus bound to succeed. There are also doubters. Moody's, a credit-rating agency, this week downgraded Brazil to five notches below "investment grade", fearing that the next president—whoever wins—may be unable to meet the Fund's demands, such as raising the current target of a 3.75% surplus on the primary budget (that is, before interest payments) if this is needed to stabilise the public debt.

Both the upbeat and the downbeat point to precedents. Brazil last defaulted on its debts only 15 years ago; Argentina did so eight months ago, despite lashings of IMF cash. On the other hand, Brazil defied predictions of default after its forced devaluation in 1999. This week's wobbles do not prove that the new bail-out is doomed: J.P. Morgan Chase, an investment bank, notes that turbulence continued for weeks after the announcement of other rescues that in the end succeeded, such as Mexico's in 1995 and South Korea's in 1997.

So who is right? A new paper* on Brazil's debt sustainability, by John Williamson of the Institute for International Economics in Washington, DC, concludes that, even with the new bail-out, things could go either way. Until the 1980s, he explains, economists took the deterministic view that any set of starting conditions had but one probable outcome. More recently, a theory of "multiple equilibria" has gained support, in which there is more than one probable outcome, with market expectations usually the deciding factor. Brazil's total public debt, or its foreign debt, both public and private, could either be sustainable or could become unmanageably large, depending on what the markets henceforth expect.

Mr Williamson starts by asking: how much debt? This is no simple matter. For instance, it is hard to know which government assets and liabilities (eg, those of state-owned banks) should be counted towards its net indebtedness. And the oscillations of the real make it hard to put a value on the chunk of debt tied to the dollar. Mr Williamson reckons that Brazil's net public debt on August 8th, the day after the IMF announced its rescue, was 841 billion reais, or $288 billion at that day's exchange rate—that is, equivalent to two-thirds of Brazilian GDP, up from 30% in 1994.

As for the foreign debt, the government has $56 billion, net of its reserves, while Brazilian firms' gross external debts are estimated at $120 billion. Though Brazilian companies and individuals have big foreign assets (estimates range from $70 billion to $170 billion), many of these are illiquid (eg, factories) and those that are liquid (eg, offshore bank accounts) would not be repatriated in an emergency: on the contrary, more Brazilians have been sending money offshore. So Mr Williamson puts the effective foreign debt at an alarming $176 billion. Brazil is already having to commit nine-tenths of its currency earnings from exports to servicing foreign debt and to financing the remittances of foreign firms' Brazilian operations.

Nevertheless, if the markets now become convinced that a default can be avoided, the real should recover some of its recent losses, lenders should resume offering money at reasonable rates of interest, and Brazil should resume reasonable growth, of around 4%, say. This would be enough, Mr Williamson reckons, for the public debt-GDP ratio to start falling, and for fears to be eased that Brazil is running out of dollars to pay its foreign debt. But if current market conditions continue, disaster looms: if the real does not recover, and Brazil has to roll over its expiring debt at current market rates, then the debt-GDP ratio could rise by another nine points this year. That, says Mr Williamson, is scary. Three-quarters of the government's debt is with local investors, who can be leaned on to keep funding it. Yet the debt ratio could reach a point where it becomes politically impossible to cut spending and raise taxes any further to try to stabilise it.

Nervous foreign banks are reeling in their credit lines to Brazilian firms, forcing these to buy dollars to repay their expiring loans, sending the real down further and so increasing the chances of an eventual default. In Brazil's crisis of 1998-99, Bill Clinton's administration leaned on American banks to roll over Brazilian debts and avoid a crunch. Mr Williamson suspects that George Bush may be less inclined to do this. Brazil's central bank has agreed with the IMF to use some of the country's reserves to lend to companies in difficulties. But a second default trigger, set off by a shortage of dollars, remains possible.

Other economists have reached conclusions similar to Mr Williamson's: investors themselves will decide whether Brazil will default on the money it owes them. They may be swayed either way by the responsibility, or otherwise, that Brazil's politicians now show, in the light of its grave situation. A few well-chosen words, or even—miraculously—some deeds, such as approving much-delayed tax reforms, might avert a disaster.

Iran, Iraq and America
Distrust, in all Around


Aug 15th 2002
From The Economist Global Agenda



As America prepares for a possible attack on Saddam Hussein's Iraq, Muhammad Khatami, the reformist president of neighbouring Iran, faces inescapable quandaries. Iran stands to benefit from the ousting of Mr Hussein, but any co-operation with America may be thwarted by Mr Khatami's conservative opponents



IN RETURN for staying neutral in the 1991 Gulf war, Iran persuaded Saddam Hussein to surrender some disputed territory and to start releasing the Iranian prisoners he had been holding since the two countries fought in the 1980s. More than a decade on, Iran's leaders are hoping to exploit Mr Hussein's renewed vulnerability. But neutrality may now be harder to maintain. Much as they hate the idea of American troops on their western border, helping George Bush in Iraq could be a last chance for the clerical regime to stay off the president's list of condemned countries.

Ayatollah Baqer al-Hakim, a Tehran-based Iraqi dissident with followers among Iraq's Shia majority, is deeply involved in the Iranian-Iraqi-American imbroglio. America now wants Mr Hakim's co-operation in generating a popular uprising in Iraq, but he and his small army need Iran's permission to do so.

The Americans are anxious to avoid a repeat of the fiasco after Mr Hussein's defeat in 1991: an American-incited rebellion among Iraqi Shias came to a tragically bloody end when Mr Hakim's men (and members of Iran's Revolutionary Guard) crossed the border, and an alarmed America withdrew its support for the venture. When Mr Hakim's brother returns later this week from talks with American officials and other Iraqi opposition leaders, he will no doubt tell the Iranians what America now expects of them.

Ever since Mr Bush included Iran in his "axis of evil", America's pronouncements have been menacing, but vague. Earlier this month, Zalmay Khalilzad, one of Mr Bush's senior foreign-policy advisers, made it clear that America had despaired of Iran's "ineffective" reformist president, Muhammad Khatami. He did not, however, as some senators and congressmen would have liked, call for a new regime in Iran. What is more, Mr Khalilzad said that America was open to discussions with Iran, notably on creating an Iraq that was no longer a threat to its neighbours.

But Mr Khatami's distrust of Mr Bush has risen since the Americans, far from thanking the Iranian government for its help in unseating the Taliban in Afghanistan, have been accusing the president's conservative opponents of helping al-Qaeda fighters to safety. On Tuesday, Donald Rumsfeld, the defence secretary, reacted to the "news" that Iran had handed over 16 suspected al-Qaeda fighters to Saudi Arabia by insisting that many more were still in Iran.

The Iranians responded by saying that they have over time arrested some 150 al-Qaeda suspects, nearly all of whom have already been handed over to various countries. The 16 Saudis were in fact repatriated in May. Hamid Karzai, the Afghan president, managed to sound equally friendly to Iran and to America, when Mr Khatami visited him in Kabul this week.

Iran's government looks for rewards in a post-Hussein regime, such as the liquidation of the Iraq-based People's Mujahedeen, which has spent the past two decades threatening Iran with bombs and bullets. But its ability to influence events in Iraq is hampered, not least by Arab countries' fear of the effects that Iran-sponsored Shia chauvinism might have on their own Shia minorities. And some influential conservative thinkers, like Amir Mohebbian, expect America to continue to threaten Iran in the hope that its internal fissures become irreparable. Despaired of by Mr Bush, Mr Khatami is in a quandary. Even if he co-operates with America, his conservative opponents could repeat the spoiling tactics they are said to have employed in Afghanistan.

For the moment, the Iranians are concentrating on short-term gains. Mr Hussein, fighting for his life, has quietly accelerated the repatriation of his remaining Iranian prisoners of war: fewer than 1,000 are thought to be still in Iraqi hands. Iraq is also keeping the Mujahedeen quiet. In return, Iran will continue to turn a blind eye to the cross-border smuggling that keeps Iraqis supplied with food and other goods.

But Iran's co-operation has limits. At a recent meeting with Mr Hussein's elder son, Iranian military officials are said to have refused to hand over the 100 or so war planes that Iraq misguidedly entrusted to Iran during the Gulf war.

Will Iraq Be an Afghanistan -- or another Bay of Pigs?
15 August 2002

Summary

Certain factions inside Washington are pushing the Afghan model of warfare -- combining massive air power with cooperation by opposition forces already in country -- as a viable strategy for a possible attack on Iraq. However, the conditions inside Iraq are much different, causing some to question whether such a campaign could raise the specter of the Bay of Pigs operation.

Analysis

Iraq has become the focus of many debates, one of the most important of which is occurring within the American defense and intelligence communities about the current state of U.S. military power and the manner in which war will be waged in the 21st century. Alongside this debate is the question of the effectiveness of U.S. intelligence to enable the American military to achieve victories.

From the standpoint of many military analysts, the United States experienced a string of decisive military victories during the 1990s -- bracketed by the Gulf and Kosovo wars -- while sustaining extraordinarily low casualties. As important, as the end of the decade approached, the quantity of ground forces required to achieve victory declined dramatically.

The successes of the 1990s led to a school of thought within the military, particularly in the U.S. Air Force, that a qualitative shift in warfare already had taken place. Advances in both the technology and the doctrine of the air campaign had reached the point that air power could paralyze an enemy's capability to wage war.

The argument was that it was air power that was decisive during Desert Storm, and that the massed armored formations that recaptured Kuwait were a waste of resources. A much smaller force would have been sufficient to sweep aside an Iraqi army whose command and control functions were destroyed and whose morale was shattered. By Kosovo, the need for massive ground forces had disappeared.

Afghanistan was the crowning glory for this school of thought. The war consisted of an air campaign combining aircraft carriers, long-range bombers and cruise missiles. The ground forces consisted primarily of special operations teams, most working in tandem with indigenous forces, with some light infantry (Marine and Army) moving in to hold key positions and provide support for special operations teams.

The Afghan model seemed to serve as a paradigm for future war fighting, and there is a faction inside the Bush administration and within the defense and intelligence communities that argues this is the model that ought to be applied to Iraq, and that the kind of buildup required in 1990-1991 is no longer necessary.

According to this model, the primary burden of the war will be carried by U.S. air power. Aircraft and cruise missiles will first suppress Iraq's air defenses, then attack its command and control infrastructure and finally decimate any concentrations of ground forces, particularly armor. At the same time, special operations teams will deploy throughout the country. Their mission will be to provide targeting intelligence, disrupt lines of supply and communications and, most of all, organize resistance to Saddam Hussein's regime on the ground.

The attack on command and control facilities will destroy Hussein's ability to control his forces nationwide, isolate (if not kill) him and create a vacuum into which opposition forces can move. At the end, conventional ground forces will move in to mop up, impose control and secure the country.

There are two premises operating here. The first is that air power can weaken Hussein's control over the country. The second is that Special Forces teams will find discontented populations that can be formed into an effective paramilitary force.

The second premise is the most important. Even if the Air Force is completely successful in disrupting Hussein's control, effective ground action to dislodge enough of his forces that they do not threaten follow-on conventional forces is critical. In Afghanistan, that force was provided by the Northern Alliance and other warlords who could be induced to work with the United States.

There are obvious and critical differences between Afghanistan and Iraq. Afghanistan is deeply divided along ethnic and tribal lines, not only between the Northern Alliance and the Taliban, but also within the Taliban itself. The marriages of convenience that comprised the bulk of the Taliban crumbled when they became inconvenient. Moreover, the Northern Alliance was comprised of heavily armed, experienced and willing combatants under the control of a few men. If the leadership could be persuaded, an effective force was in place -- relative to the strength of the Taliban.

Thus, the ability of air power to disrupt the Taliban's command and control, and to provide coordinate air support for indigenous operations, depended on the existence of forces to carry out those operations. Those forces were ready to go in Afghanistan. That is not the case in Iraq.

The Kurds will be quick to point out that they are armed and ready, but they should not be mistaken for the Northern Alliance. The Kurds' ultimate goal is a Kurdish state -- something they have de facto achieved in northern Iraq by walking a fine line between the Turks and Hussein. Turkey has no interest in the emergence of an internationally recognized Kurdish state, and Washington has sided with Ankara on that point, declaring that a post-Saddam Iraq will be a unitary state. There is little to no chance that Iraq's Sunnis or Shiites would tolerate a significant Kurdish role in the government of that state.

For the Kurds, therefore, cooperation with the United States in toppling Hussein promises great risk but denies their desired reward. And finally, the Kurds are on the periphery of Hussein's core strategic area. Hussein has been extremely efficient at sealing or eliminating any internal rifts that might be exploited to stage an uprising.

So Hussein has opposition, but opposition alone is different from effective opposition. Saddam's security forces are highly effective, in large part because of their brutality. After many years of successfully destroying and disrupting any organized opposition inside of Iraq, it is extremely doubtful that indigenous opposition forces can be mobilized, armed and trained between the time the air campaign loosens Saddam's grip on them and the moment they must commence offensive operations.

There is an analogy here with the Bay of Pigs, which was predicated on the assumption that the landing of a few hundred paramilitaries, coupled with U.S. air power, would trigger a rising against Cuban leader Fidel Castro. There was never an expectation that the direct force would be successful, only that it would trigger indigenous forces. It could be argued that the cancellation of planned air strikes represented a major shift from the original plan, but it is extremely unlikely that even air strikes would have led to an uprising. Castro's security services were simply too good and his popularity was too secure.

In Iraq, the premise of the operation is similar to assumptions made about Cuba -- namely the fact that conditions for an effective uprising are in place. Some argue that air power has advanced so dramatically since 1961 that the relative weakness of the Iraqi opposition would be compensated for by more effective air strikes. Obviously, U.S. intelligence knows that the Iraqi opposition being paraded in Washington is an empty shell. It also knows that raising a meaningful force inside of Iraq is unlikely.

Therefore, the United States seems to be making the following bet: Air power has demonstrated its ability to so destroy an enemy that a relatively small force could engage and defeat what little may be left of the Iraqi armed forces. The force deployed in 1991 represented massive overkill. A much smaller force, perhaps 20 percent as large, could have been as effective.

Therefore, in the 2002 or 2003 model, a substantial air campaign, combining naval air in the Persian Gulf with Air Force strikes from Turkey and Qatar, will be sufficient to permit a ground force of two divisions or less to manage the situation. Special operations troops will focus on intelligence, targeting and disruption missions but will not be expected to raise an effective indigenous force.

Given the experience, this argument appears plausible. But it does not deal with a single crucial element: Baghdad.

When the Israelis invaded Lebanon nearly two decades ago, they struck deep and went to the outskirts of Beirut. They were hoping that panic among the Palestinian Liberation Organization forces there would denude the city of defenders, giving them control.

When the PLO stood and fought, Israel declined combat, knowing that urban warfare provides a huge advantage for the defender, particularly one familiar with the landscape. When the Soviet army closed on Berlin in 1945, it had complete air superiority, ringed the city with artillery, outnumbered the defenders and was enormously better armed, equipped and trained. The German defenders -- children and old men in many cases -- knew that the war was lost. Nevertheless, the Soviets suffered tens of thousands of casualties taking the city.

The U.S. Army has not assaulted a very large, defended city in its history. Since the United States is casualty-averse, its doctrine calls for maneuvering around urban areas without entering them. That means that there is a tremendous unknown: the ability of the United States to paralyze with a high degree of certainty any defense of Baghdad -- bearing in mind that a disorganized defense can be just as devastating as an organized one in that environment.

The essential assumption has been that air power could so destabilize Saddam's armed forces that they would be unable to maneuver and defend. The core unanswered question is whether air power would be equally effective in disrupting defenses inside of Baghdad.

Would forces there stand and fight? Would they melt away? Could a two-division mechanized force subdue the city with acceptable casualties? Most important, could the United States know the answers to these questions prior to launching the attack?

We should add to this that there will be political constraints placed on the air campaign. A strategic bombing campaign against Baghdad causing tens of thousands of casualties might win the war, but the pressure it would place on the international coalition would be enormous. Yet in tactical combat inside an urban environment, close air support without massive collateral damage is hard to come by.

These are the nightmares confronting American planners. On the one side is the very real promise of air- and special operations-based warfare. On the other side is the question of just how far you can push this model before it traps you into a war of attrition. For those who assert confidence in the political consequences of a military action, there is the memory of the Bay of Pigs. On the other side -- in its extreme form -- there is Stalingrad and the memory of what defensive warfare can do to a mobile enemy when drawn into a major city. These are the cautionary tales with which U.S. defense planners are working.

m100 Market Outlook
-------------------
August 15, 2002

Up until the market's close on August 13th, the S&P 500 Index had delivered a flat return for the month of August. Then came August 14th and the deadline for the CEO's of the 942 largest American corporations to pledge the accuracy of their financial statements. The S&P jumped +4.0% as 620 of the 695 companies required to file sent in their certified financials to the SEC.

Many of the m100 members warn, however, that it will take much more than one day to restore investors' shaky confidence in the markets. As Jeff McDowell puts it, "[The certification of financial results will not restore confidence], genuine and repeatable profits will restore genuine and sustainable confidence."

August 14th and the future The m100 group overwhelmingly believes that the SEC imposed deadline will be unable to provide the necessary confidence for the market to bounce back towards recovery. Though politicians hope to force a shift in investor psychology, our top members agree that what's more important is to give it time:

"I don't think CEO filings will do anything to change the current situation. The fear that has severely affected the confidence of the investor is a mistrust of the entire business, not just the CEO's. When you have large-scale deceptions on the part of CEO's & CFO's, Accounting firms, and Wall Street firms that participated in the deceptions, it will take a very long time to restore investor confidence in any reports that are issued by all public corporations. I believe it will take years before the individual investor has forgotten the corruption that has come to light in the recent past." Norman Jacoby

"You don't restore confidence with a single act. You need time and an extended period of time at that." Farid Moslehi

Of course, with time must come progress. Unfortunately, that progress will have to be a little more "old-fashioned" than financial oaths. One of the most important factors in the confidence equation is a strengthening job market. As Nima Billou puts it, "When more people are working in well paying jobs, they will feel better, spend more and invest more to help push up the stock market." Parhatsathid Napatalung agrees when he says that, "ultimately, consumer confidence can only be had if layoffs are not imminent. Consumer purchasing is linked to job stability." Perhaps the only way to truly restore confidence is to nip the problem in the bud - corporate profitability:

"I don't believe the CEO's oaths will restore investor confidence. Especially institutional investors. I feel that they are aware that the financial misdeeds are only a symptom of poor fundamentals, which will lead to lower profits in general." Mike Wolfe

And the only way to revisit the days of strong corporate profitability is for the economy break-out of its recession and return to year-over-year growth.

Economic Outlook
----------------
In polling our top members about their respective outlooks for the economy, we found the sentiment to be decidedly bearish. Roughly 80% of the respondents felt that the U.S. economy was either headed for a double-dip recession or had failed to fully exit the first recession. Most agree that the layoffs will continue, that there will be more bankruptcy filings, that consumer spending is slowing as more people are laid off, and that default rates will increase as well.

"The market has predicted the next recession. If the politicians in their infinite wisdom make the correct changes in the economic climate, then the recession will not happen. If not, we will have a recession. Either way, the market as predictor has predicted. It is up to us to modify our economic behavior correctly and avoid the recession." Al Martin

"No, there is not going to be a double-dip recession, because we never left the first one. It is a straight line - down as the boomer debt bubble implodes." Kevin Wilde

However, not all of the top members agree that continued or renewed recession is ahead. Some suggest that what we will experience is just a very slow growth that serves to frustrate investors with impatient expectations:

"There will not be a double dip recession. One thing I've learned over the years is that numbers are always, always revised. Problem was that people wanted to believe those first quarter GDP numbers and they over-reacted as usual. The market pendulum always swings to extremes. We are experiencing sustained growth but just not at the magnitude that people were hoping for after losing all their money in the last two years. The consumer isn't finished. Productivity is sustaining it's highs. There are absolutely no inflationary pressures. The FED has ammo if it needs it but I think they will refrain at this time. I believe the bottom is in and we are presently seeing the market give us it's usual six months lead-time. Look at how well we have held the gains of the last few weeks. The only index to break its 50% retrenchment was the NASDAQ and even that is now acting well and inching up. In my mind there is not a chance of this demon double dip and I will continue to manage my money accordingly." Bob Davanzo

Despite the optimism of the few, it is still hard to ignore the fact that the uncertainty has locked investors into a more fearful than hopeful psychological stance: "I am very fearful of a double dip recession. I certainly don't see much economic growth in the near-term. Other than low interest rates, I don't see much good news today or on the horizon." (Alan Baginski).

In summary, August 14th alone will not signal a bottom or turn in investor confidence. The value of the financial certifications may be real or just a missed attempt by the SEC to turn investor confidence in the right direction. But in either case, the real recovery in the economy looks like it will be slow and possibly preceded by another (if not already existing) recession.

Investors should be aware of the worries presented, but should be careful to note that many of the m100 members remain heavily invested in the market. History teaches us that by just missing the 5 best market days each year, your returns can suffer heavily (since 1980, the returns would have dropped from +29% to just over +2%).

If you have a market outlook question for the m100, email it to "questions@marketocracy.com." It may be featured in a future m100 Market Outlook.

U.S. Putting Jordan in a Vice
14 August 2002

Summary

The Jordanian government continues to suppress opposition as U.S. Marines take part in an annual military exercise there. The Jordanian government wants to avoid focusing too much attention on its cooperation with Washington, but the United States must play up its relationship with any and all Arab allies ahead of an Iraq campaign.

Analysis

United Press International reports that organizers of a recent "cultural-political" festival in Jordan called off the event because the government barred eight of 12 scheduled speakers from participating. Saudi cleric Sheikh Salman al-Odeh reportedly was detained and deported 90 minutes before he was to deliver a lecture on "Jihad and Terrorism." Other detainees included Yemenis, Tunisians and Palestinians.

The conference and the crackdown coincide with the presence of U.S. Marines training with Jordanian forces in an annual exercise known as "Infinite Moonlight." The Jordanian government has energetically tried to claim that the U.S. forces would not be permitted to operate out of Jordan against Iraq in the event of a war, and that the exercise was simply a routine and regularly scheduled training event.

The problem for Jordan is that this is not the news coming from Washington. Advocates of an invasion of Iraq -- aware that a single-front strategy based out of Turkey is much less desirable than an attack on two fronts -- have been actively signaling that plans for an attack include the use of Jordan-based resources.

For example, Agence France-Press reported Aug. 13 that the U.S. Navy is contracting two commercial ships to move military hardware, "including Bradley fighting vehicles and helicopters," to Jordan and an undisclosed Red Sea port. In a briefing, U.S. Central Command spokesman Frank Merriman gave the government's official story, saying, "We consider this just a routine shipment" involving the transfer of equipment from Europe to the Middle East.

But nothing involving the movement of infantry fighting vehicles to Jordan can be construed as routine. There is no link between "Infinite Moonlight" and the transfer, since even if the chartered vessels were available and loading commenced immediately, they would not be in the region in time for the exercises. However, the U.S. government wants it known that it is in the process of building its forces in preparation for an attack on Iraq, and that it will be positioning the equipment in Jordan.

Jordan's official policy is that it does not support and will not participate in a war against Iraq, even while the United States is publicly making it very clear that it has secured Jordanian cooperation. This increases domestic pressure on the country's Hashemite monarchy, which is reacting by cracking down on what it regards as foreign agitators.

By extension, the government also is taking on the domestic opposition that is linked to such agitators. Since the U.S. military clearly wants to use Jordanian territory but also wants to minimize instability in that country, the question is: Why is it going out of its way to publicize the buildup in Jordan?

The Bush administration is clearly under pressure in two ways. First, it needs to show that it is not completely isolated in the Arab world in its plans to attack Iraq. It badly needs to demonstrate the existence of a willing Arab partner, and it is willing to do so regardless of the pressure this puts on Jordan.

Second, it needs to show that it has a credible military option even if the Saudis and Kuwaitis refuse to participate in a war on Iraq. If the U.S. military attacks strictly from the north, there is some possibility that Iraq might strike at Jordan. As a key ally and buffer between Iraq and Israel, the United States can't risk this.

More important, the U.S. military will face the danger of SCUD missile launches from western Iraq as it did in 1991, and it needs Jordan as a base for suppressing the SCUDs. Since the feasibility of the Iraqi plan is coming under heavy scrutiny in the Pentagon and Congress, letting everyone know that Jordan is in is critical.

Jordan has a number of reasons for supporting U.S. policy. The most important is that the government is deeply concerned by both the rising influence of radical Islam in its long-time antagonist Saudi Arabia and the radicalization of the Palestinians.

King Abdullah's father Hussein had to fight to save his throne from a Palestinian uprising in 1970. Palestinian radicals have never forgiven the Hashemite government either for Black September -- after which Hussein's military launched a successful campaign against the Palestinians, driving them out of Jordanian territory -- or for the royal house's long-term relationship with Israel.

Jordan is counting on the United States to get these forces under control and sees the fall of Iraqi leader Saddam Hussein as a vital step. Unlike in 1990, when the Jordanians flirted with Hussein, Jordan has no choice now but to side with the United States.

On the other hand, Jordan would prefer this relationship be much more covert. While security forces have been extremely effective in controlling opposition, as the cancellation of the festival shows, the government is aware that the opposition could reach a threshold that cannot be suppressed. In the long term, it wants radicalism crushed. In the short term, it would like it suppressed quietly.

But Washington cannot silently stand by. It must demonstrate that it has allies, even if to some extent it has to increase the risk to those allies. Washington is calculating that the value of publicity over Jordan's participation is greater than the risk. King Abdullah certainly hopes the United States is right, since he clearly cannot control what Washington is saying and does not want to opt out.

Greenspan Keeps His Nerve


Aug 14th 2002
The Economist Global Agenda



Wall Street has reacted gloomily to Alan Greenspan's decision not to cut interest rates any further for the time being. But the Fed admitted that stockmarket jitters have helped undermine economic recovery, and hinted at a possible rate cut later in the year



WILL he, won't he? Not for the first time, Alan Greenspan, the powerful chairman of the Federal Reserve—America's central bank—has kept the pundits guessing. Few Wall Street economists had expected the Fed to cut interest rates at its regular meeting on August 13th, but a growing number, though not a majority, expect a further fall in borrowing costs at some time this year. The stockmarkets, though, reacted gloomily both to the decision not to cut and the Fed's warning about possible trouble ahead.

By shifting its economic assessment from neutral—where the risks to stability are evenly balanced between inflation and economic weakness—the Fed is, in effect, saying that it is concerned about a possible further weakening of the recovery under way since late last year. The message is clear to those familiar with the Fed's opaque turn of phrase: if it is judged necessary, interest rates will be cut again.

The Fed's dilemma is clear—unlike the state of the American economy. Figures released by the Department of Commerce as Mr Greenspan and his colleagues were meeting in Washington underlined the extent of uncertainty about the strength of the recovery and the outlook. Retail sales grew by 1.2% in July and year-on-year growth appears stronger than in recent months. But much of the increase was accounted for by sales of cars, which were buoyant because of widespread discounting and zero-interest loan deals by the manufacturers. Once cars are stripped out of the retail sales data, they look much weaker, and have encouraged doubts about the American consumer's staying power over the coming months.

That would be worrisome, since shoppers have been the mainstay of the American economy over the past two years: personal consumption did much to mitigate the effects of the downturn. Should consumers decide to spend less time in the shopping malls, the prospects for recovery would look weaker than they already do.

Mr Greenspan has gone out of his way not to talk up the recovery, consistently warning that the upturn would be modest. Even after the economy's spectacular rebound in the first quarter of this year, he warned against exaggerated expectations for growth over the year as a whole. He was right to do so. When new figures for GDP were published on July 31st, they showed that expansion in the first three months of 2002 had been slightly less impressive than first thought: though at an annualised 5%, America's upturn comfortably outpaced that of Europe's still-sluggish economies. More disappointing was the economy's unexpectedly weak showing in the second quarter, a more European-style 1.1% at an annual rate.

Even President George Bush, who was holding an economic forum in Texas while the Fed was meeting, admitted that "things are kind of tough right now", though he insisted he was optimistic about the future. Mr Bush had little but words to offer, which is why attention remained firmly on the debate at the Fed's headquarters.

The statement issued after the meeting of the Federal Open Market Committee (FOMC)—the Fed's main policymaking body—acknowledged that financial market turbulence and a whole series of corporate accounting scandals had largely been responsible for prolonging what the Fed called the "softening in the growth of aggregate demand". The FOMC members, who were unanimous in their verdict, took the view that the interest-rate cuts made last year—11 in all, between January and December—should be enough to deliver a continuing improvement in the business climate in the next few months.

The FOMC also took heart from productivity figures released on August 9th which, though revising down some of the spectacular numbers seen as the economic boom peaked, turned out to be better than some economists had feared. The so-called American productivity miracle has lost some of its lustre, but it has not—yet—vanished altogether (though some might quibble with the Fed's description of underlying growth as "still robust").

The Fed had good reason to be cautious about cutting interest rates further. In spite of some gloomy data recently, the economic picture remains quite mixed. Government figures issued on August 14th showed business inventories rose in July for the second month in a row. The modest rise was in line with expectations, however, and did not fundamentally alter the general assessment that the recovery is modest and still vulnerable.

But the housing market remains strong, with the lowest interest rates for 40 years encouraging many people to re-mortgage their homes and withdraw some of the equity to finance spending. Mr Greenspan has argued that house prices have more impact on consumers than share prices, and can point to the Fed's own figures, which show that the average American household owns less than $20,000 worth of shares, to support his view.

The Fed clearly thinks that some of the effects of last year's monetary loosening have yet to have their full effect—interest-rate cuts tend to work with long lags. Mr Greenspan and his colleagues are also aware that with rates already down to 1.75%, the risk that further cuts will be less effective must grow. With fewer shots in the locker, it is all the more important to save them for when they might be absolutely necessary. Mr Greenspan wants enough ammunition to respond to another severe economic shock, such as that which followed the events of September 11th, or a significant worsening of the general outlook.

Initial market reaction to the Fed statement was not heartening. But the Fed has been wary of being seen as bailing out the stockmarkets: many economists take the view that much of the fall in equity prices since the peak in 2000 is simply the correction which inevitably follows the bursting of an asset price bubble. Only if persistent stockmarket weakness threatened to undermine recovery would there be a case for action.

Few people are yet predicting the economy will slide back into a double-dip recession. Forecasts are being revised downwards—the International Monetary Fund announced it would be reassessing its forecast for American growth this year. But lower growth is not the same as recession, and The Economist's latest poll of private forecasters shows only slight shading down of the average growth forecast for this year, to 2.7%.

In any case, a pre-emptive strike by the Fed could be counter-productive if the financial markets see it as motivated by panic among the policymakers. Mr Greenspan would not want to be seen as other than cool under pressure and he has kept his nerve. But he has also left himself with an escape route: the option of cutting interest rates should he need to. Right now, few people are willing to bet on the outcome of the Fed's next meeting, in September.

America's Economy Wobbling?


Aug 2nd 2002
The Economist Global Agenda



New data suggest that America's recession last year was worse, and its recovery this year is weaker than previously thought. Is there now a risk of another downturn?


WITH world stockmarkets—and political America—still reeling from a long list of corporate scandals which have destroyed some of the country's biggest companies, there was at least one comfort: America's economic recovery seemed strong. Until this week, that is. Now that reassurance, too, has been brushed aside. Figures released on August 1st showed an unexpectedly sharp rise in jobless claims for the previous week. A manufacturing survey from the Institute for Supply Management, also released on August 1st, was also disappointing: manufacturing activity, according to the survey is still rising, but only just. And labour market data published on August 2nd confirmed the impression of an economy struggling to pick up momentum. These figures seemed to confirm the most dramatic figures, which had been published by the American government a few days earlier. These showed that the economy had grown much more slowly than realised in the second quarter of this year—by only 1.1% at an annual rate. Separately, survey data published by the Federal Reserve on the same day supported the impression of a slowing, and even faltering recovery.

Compounding the gloom are the revisions made by government statisticians to earlier figures. It now turns out that last year's recession was significantly worse than previously estimated, and growth in the first three months of 2002 a bit less impressive than earlier statistics had indicated. The backward changes will mean a downward revision to America's spectacular productivity figures and cast further doubt on the "miracle" of the new economy.

The new figures are a blow to hopes that America's economic recovery is well established. Suddenly, the recovery looks weak and the economy looks vulnerable to further shocks. The determination of American consumers to keep spending has bolstered the economy for so long. If consumers should now lose heart, as some recent surveys suggest they might, all bets will be off. Another downturn—a so-called "double-dip" recession—would then be highly likely. With Europe and Japan still in the doldrums, the forecasts of steady global growth this year could soon look overly optimistic.

The latest figures, though gloomy, are not all bad. Business investment is still falling, but at a slower pace than before. The one, very modestly encouraging sign is a small upturn in investment in computer equipment and software, though this comes after nearly two years of decline. Consumer spending grew more slowly in the second quarter than the first, though fortunately it is still growing, at an annual rate of 1.9%. And despite recent surveys showing a decline in consumer confidence, there are plenty of signs that consumers are still spending on cars and houses, as well as on smaller items. Retail sales in May, the latest month for which figures are available, were up nearly 5% on the previous year, in volume terms. With car makers reviving low and zero-interest deals, some analysts now expect July to be the best month of the year so far for vehicle sales. And one of the technical reasons for the weakness of the latest GDP figure is a boom in imports, which were up by 23.5%, the largest rise since 1984 (exports rose at only half that pace). The weaker dollar should encourage more Americans to buy home-produced goods in future.

So the picture remains mixed, but the risks of another downturn seem greater than most economists thought they were just a few weeks ago. The latest figures are, of course, a record of what has already happened to the economy, up to the end of June. They cannot offer a clear guide to what is happening now; and significantly they exclude the last few weeks which have seen near-panic in the stockmarkets and big falls in share prices. That is where the Fed's latest survey, or "beige book" can help fill in the picture. It comprises anecdotal evidence from the twelve district Federal Reserve banks spread across America. And it makes dismal reading, providing a significantly gloomier assessment of what's happening to the economy than the previous survey published seven weeks ago. Barely half the district banks, for example, reported an unambiguous expansion in manufacturing.

There is, though, still no clear evidence about the impact on consumers of the latest market volatility, which has itself posed a challenge for the authorities. After the latest setback, few economists expect to see a rise this year. Though American interest rates are now at their lowest level for the past 40 years, some economists have speculated that the Federal Reserve, America's central bank, would cut them still further to try to calm the markets and stabilise the economy. The latest GDP data is likely to revive such speculation in the short term.

The Fed's next scheduled meeting to review interest rates takes place on August 13th. A further cut still seems unlikely, for two main reasons: first, it might smack of panic, and thus be counter-productive by fuelling fear and uncertainty; and second, with interest rates already so low, the Fed will probably want to retain what ammunition it still has, in case the economy is faced with a further unexpected shock, such as that on September 11th last year. But it is difficult to predict with much certainty what the Fed will do next. Alan Greenspan, the powerful Fed chairman, plays his cards close to his chest.

One man likely to be especially concerned by the latest figures is President George Bush. His approval ratings have already taken a knock after the revelations of corporate malpractice and accounting fiddles at companies like Enron and WorldCom. Mr Bush has been struggling to regain the initiative for action from a Congress determined to clamp down on such activities; some voters perceive the president as having closer ties to big business than is desirable.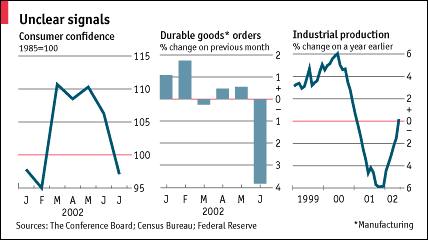 A sluggish economy is therefore a huge headache for Mr Bush, and his Republican Party. Control of both the Senate and the House of Representatives now look up for grabs in the mid-term elections in November. If the Democrats gain clear control of either, Mr Bush will find his ability to get much done in the second half of his presidency drastically reduced. If on top of this, America's economy is weak, or in recession, his own re-election in 2004 could be threatened. Everyone in the Bush administration, not least the president himself, is painfully aware of his father's failure to get re-elected, for which most blame the recession of the early 1990s.
Mr Bush has already presided over the disappearance of the huge budget surpluses projected when he first took office. For a time it looked as if he might narrowly escape being politically damaged by the economy, with the mildest recession on record and a swift and steady recovery. At the very least, the latest figures suggest that he can no longer count on either of these.
South America's Dominoes
Aug 2nd 2002
FThe Economist Global Agenda
America's treasury secretary, Paul O'Neill, is about to visit three Latin American countries which face economic disruption or meltdown. The problems of Brazil, Argentina and Uruguay may differ in many respects, but American and international help is crucial to resolving all of them
WITH Paul O'Neill, there never seems to be a dull moment. In his eighteen months as America's treasury secretary, Mr O'Neill, who struck many as a drab businessman on taking office, has provided governments and investors around the world with plenty of thrills. True to form, he preceded his visit to Latin America, which starts on Sunday August 4th, with yet another headline-grabbing example of the simple, or simple-minded, straight talking on which he seems to pride himself. Mr O'Neill said he was not going to Brazil, Argentina and Uruguay with offers of new financial help because there was too much chance that any new funds would immediately find their way into Swiss bank accounts. The remarks caused great offence. The Brazilian government, in particular, was outraged. The American ambassador in Brazil and the treasury in Washington have spent the run-up to the trip on the defensive, trying to soothe ruffled feathers.
As entertaining as the episode has been for fans of Mr O'Neill, it is a little unfortunate for Latin America, because the now-troubled continent, along with the international financial community, is counting on America to lead it out of economic crisis. The problems facing the three countries that Mr O'Neill will be visiting are all different, and all require different solutions. The one thing they have in common is that outside help is needed to resolve them; without America, that help is unlikely to be forthcoming. America has a veto in the ruling councils of the International Monetary Fund (IMF) and the World Bank. Without its agreement, there will be no new IMF cash for any of the three.
In the long term, Brazil's problems are probably the most worrying, if for no other reason than its huge size. But the crisis in Uruguay looks most urgent, and that in Argentina most intractable. Uruguay's problem is primarily one of contagion from its larger western neighbour. For months, it looked as if the economic and political collapse in Argentina would not spread to other countries in the way that previous emerging-market crises have enveloped a whole region. Investors, on the whole, continued to look at each country on its merits.
Uruguay, though, is a small economy. Its currency, the peso, has lost about half its value since March, pushing up the cost of its public debt to alarming levels—it is now roughly 100% of GDP. Most bank deposits are in dollars, and many of those are held by Argentines, whose bank accounts at home remain frozen. A run on the banks is therefore draining the country's foreign-exchange reserves, by around $500m a month. On July 30th, with reserves down to $655m, the government closed the banks until August 5th, while officials tried to negotiate disbursement of the remainder of an IMF loan already agreed.
Even a deal with the IMF, though, can bring only a brief respite, unless confidence in the banks is restored. Without that, it is hard to see how Uruguay will be able to avoid a debt default. This would be nearly as large as the record $133 billion on which Argentina defaulted at the end of last year, but it would be the second Latin American default in a few months, and so would be bound to make investors even more anxious than they already are.
A Brazilian default would have far more serious consequences, though, and this too remains a possibility. Brazil's crisis is home-grown. The presidential election in October, and the prospect of a victory by a candidate seen as less market friendly, has caused the upset. Since April, when investors started to fret about the prospect of a leftish victor, the Brazilian currency has weakened significantly. At one point last week, it had lost lost about a third of its value, though it subsequently recovered quite sharply. The currency's weakness has pushed up the cost of servicing the country's debt burden, which itself has risen to almost 60% of GDP, from 52.5% a year ago, according to the central bank. The risk premium on Brazilian bonds has soared, leading some analysts to fear that the debt will become unserviceable. Some think the government should start an orderly restructuring of its debt, to avoid a more chaotic default.
But the structure of Brazil's public debt is fundamentally different than that of Uruguay. Brazil's public foreign debt is both relatively small and long-term. Most of Brazil's debt is held by local investors, who have in the past reaped high returns from government bonds. Only a few have so far switched to cash.
Meanwhile, Brazilian officials are in talks with the IMF about a new loan agreement. The IMF said on August 1st that these discussions are being pursued "intensively". But it also said that no new agreement can be reached without what a spokesman called an "understanding" from the main presidential candidates that they will maintain basic economic policies. The two left-leaning candidates who are currently ahead in the opinion polls appear to have ruled out such a deal. Although front-runner Luiz Inacio Lula da Silva has tried to adopt a more politically moderate tone recently, he said on August 1st that he would "prefer to look for another remedy and not rely on the IMF". The other left-wing candidate, Ciro Gomes, who is now in second place in the polls, also ruled out a commitment to an IMF programme. "No way", he said. The two men could find themselves under intense pressure to modify their positions if that was the only obstacle to a new IMF deal.
The race may change when the government candidate, Jose Serra, who is currently trailing third, gets access to the dominant share of free television time from mid-August. If Mr Serra's fortunes improve and if the IMF holds out the prospect of extra assistance, investors' near-panic might start to subside. Soothing words of support for Brazil from Mr O'Neill might also help, but the government would be unwise to count on anything too concrete. Mr O'Neill is known not to favour bail-outs.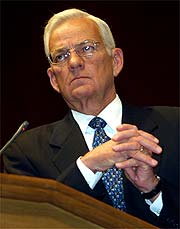 O'Neill's carrying no cheques
Argentina's embattled caretaker government knows that only too well. After agreeing to a rescue package in August last year, America has steadfastly blocked further help until substantial economic reforms have been put in place. Most economists now acknowledge that the last bail-out simply postponed the crisis without helping to mitigate it. Hence the insistence of the IMF—and its paymasters—that reform must this time be delivered in advance. When negotiations reached an apparent stalemate on the nature of the reforms needed, an independent panel of advisers, known as the four wise men, went to Argentina in July: their report, though, seems to dodge some of the basic differences between Washington and Buenos Aires.
So the interim government of President Eduardo Duhalde will be seeking to persuade Mr O'Neill that its case is a deserving one. Mr Duhalde has brought forward the presidential elections to March next year, in the hope of giving Argentina a fresh political start and, he hopes, having secured a new deal with the IMF. He may be disapppointed. Mr O'Neill has said he wants to see Argentina return to a position of strength and stability. He has not said how he envisages that happening.
---